On February 27, 2023, the WHS Math Team competed at the Rock Valley Conference Math Meet, held this year at Brodhead High School. Seven schools sent 48 participants to complete interesting and challenging math problems in 5 events: Algebra, Geometry, Problem Solving, Advanced Math, and a Team event. The WHS Varsity Team tied for 3rd place in the overall scoring, with high individual score awards given to senior Peter Portwine (tied for 11th place), sophomore Alex Clarksen (tied for 7th place), and junior Jared Apgar (tied for 3rd place). Congratulations to all of our mathletes for coming out on a Monday night and representing WHS so well!
Pictured is the 2023 WHS Varsity Math Team, clockwise, from upper left: Peter Portwine (12), Payton Bunger (10), Dante Baker (10), Jared Apgar (11), Alex Clarksen (10), Lauren Rollette (11), Grace Foucault (12), and Aidyn Amundson (11).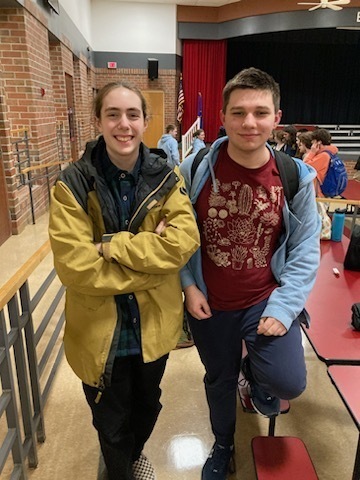 Participating in the JV events were sophomores Xavier Zei (left) and Luc Pomazak.