AP Exam Registration opens soon. Students wishing to take an AP exam, please use this link to register for exams
www.TotalRegistration.net/AP/502525
. Students or Parents can contact Kate McNulty (
kmcnulty@wwusd.org
) with any questions regarding AP Courses or registering for AP Exams. Monday, October 3, 2022 at 8:00 AM - Online Exam Registration Opens Monday, November 7, 2022 at 4:00 PM - Online Exam Registration Closes

Join the FFA Alumni for their annual cookout on Friday night before the football game. Check out the flier for details.


There will be a parent meeting on Wednesday evening, September 21, at 7:00 pm in the high school library for any student interested in joining the robotics team (Ferradermis) this year. Student members should make every effort to attend with at least one parent/guardian. The meeting should last less than an hour.

Reminder - The high school will be TESTING the WAV security system at approximately 10:30 today. This is NOT a real emergency.

Wednesday evening during Parent University, from 4pm to 7:30pm, come to the front entrance hallway to order your 2023 yearbook! Yearbooks are $65 or $72 if you want it personalized. You can pay by cash, check or charge. Get the special rate now before the price goes up to $73! 2022 graduates that have not picked up yearbooks can also come to pick up during this time. Any questions? Please contact Mrs. Roland at
droland@wwusd.org
.


Picture Retake Day will be happening for high school students on Tuesday, September 13.

September 8, 2022 Dear Parents/Guardians, Safety is the top priority in Whitewater Unified School District (WUSD). Next week, the schools will be conducting WAVE system safety drills. WAVE, is our active shooter alert system, that initiates a sound to alert students of an intruder and immediately alerts our police departments. We will be practicing our established safety procedures for threats to schools with a lockdown drill on the following dates: Lincoln Elementary - Tuesday, September 13 Whitewater High School and Lakeview Elementary - Wednesday, September 14 Washington Elementary - Thursday, September 15 Whitewater Middle School - Friday, September 16 We wanted to make you aware that this is a drill, that all students and staff are safe, and that these are not due to a threat to our schools. The WAVE drills allow our students and staff to be well prepared in the event of an actual emergency. Dr. Caroline Pate-Hefty Superintendent – 8 de septiembre de 2022 Estimados padres/tutores, La seguridad es la prioridad número uno en el Distrito Escolar Unificado de Whitewater (WUSD). La próxima semana, las escuelas estarán realizando simulacros de seguridad con el sistema WAVE. WAVE, es nuestro sistema de alerta de tirador activo, que inicia un sonido para alertar a los estudiantes de un intruso e inmediatamente alerta a nuestros departamentos de policía. Estaremos practicando nuestros procedimientos de seguridad establecidos para las amenazas a las escuelas con un simulacro de cierre en las siguientes fechas: Primaria Lincoln - martes, 13 de septiembre Escuela Preparatoria Whitewater y Primaria Lakeview - miércoles, 14 de septiembre Primaria Washington - jueves, 15 de septiembre Escuela Media Whitewater - viernes, 16 de septiembre Queríamos hacerles saber que se trata de un simulacro, que todos los estudiantes y el personal están a salvo, y que estos no se deben a una amenaza a nuestras escuelas. Los simulacros de WAVE permiten que nuestros estudiantes y el personal estén bien preparados en caso de una emergencia real. Dr. Caroline Pate-Hefty Superintendente

High School New Student Orientation will take place today at WHS from 1:00 p.m. to 2:00 p.m. for any new high school students (students new to the district). La orientación para nuevos estudiantes de secundaria se llevará a cabo hoy en WHS de 1:00 p. m. a 2:00 p. m. para todos los nuevos estudiantes de secundaria.

The Main Office and Student Services Office are in need of students looking to earn volunteer hours as Office Runners. Must be reliable, courteous, and able to maintain confidentiality. If you are interested, please contact Mrs. Heinowski in the Main Office or Mrs. Millard in Student Services.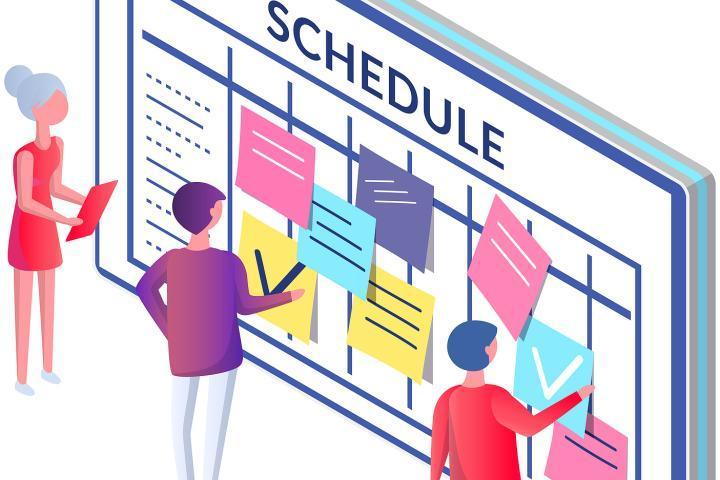 Thank you to everyone who came out and picked up or purchased our 2022 yearbook last night! Students still at Whitewater who did not pick up their yearbook will receive them in their homeroom after school starts. If you purchased a yearbook and have graduated, please contact Mrs. Debbie Roland at
droland@wwusd.org
or 262-472-8209 to arrange your pick up. Please note that teachers and staff are in meetings all next week so yearbook pick up will not be available during that time.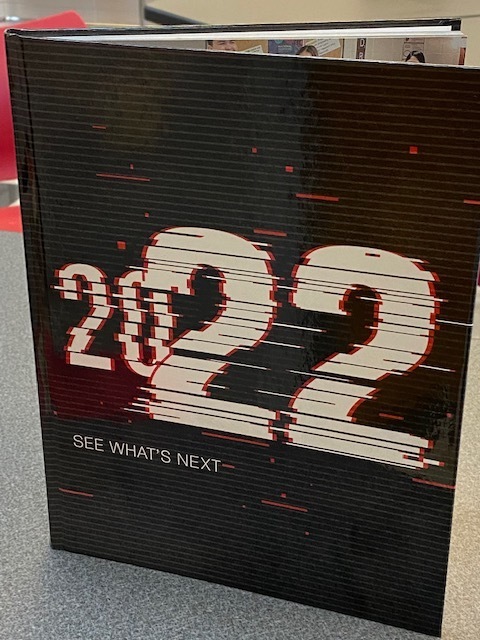 Students interested in joining the cheerleading squad for fall and/or winter should contact Jorie Raudenbush at
jfranger@wwusd.org
.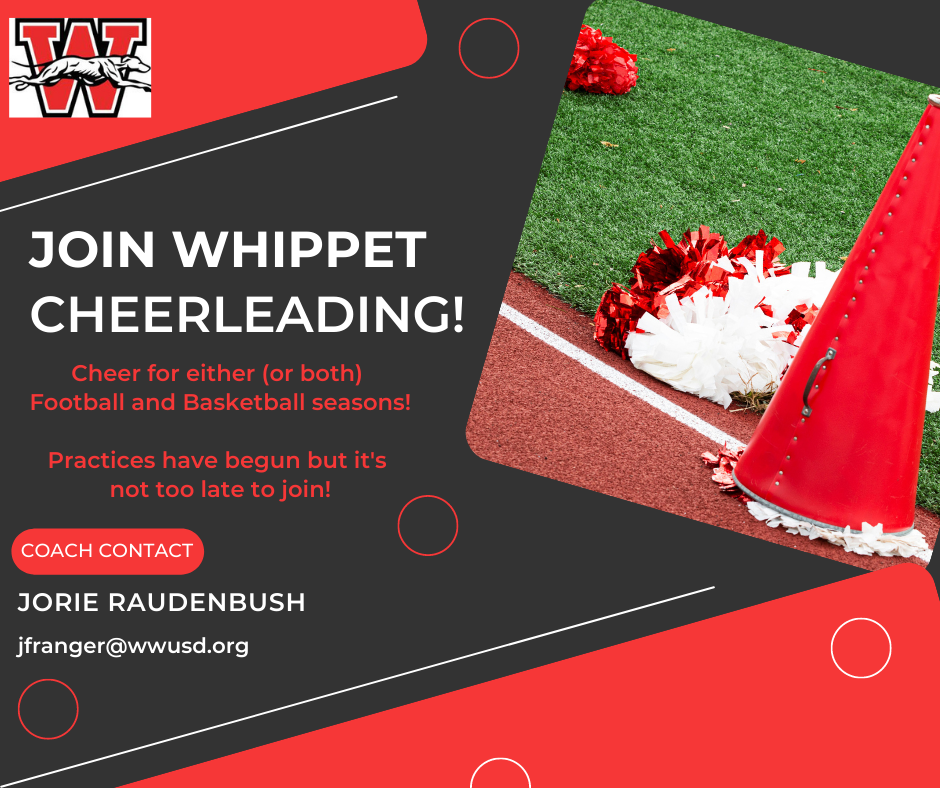 Our 2021-22 yearbooks have arrived! On Thursday, August 25, from 4 pm to 7 pm, come to the picnic tables next to the concession stand behind WHS to pick up your yearbook, and stay to catch up with your friends and sign each other's books. Students will be able to purchase sodas, Subway subs, and chips at the concession stand located between the high school building and the baseball field. If you have questions, please reach out to yearbook advisors Kate Weston at
kweston@wwusd.org
or Debbie Roland at
droland@wwusd.org
.

CESA2 has confirmed that the following in-person Drivers' Education sessions will be held at Whitewater High School this year: 2022 Fall Mon. & Wed. Session: 09/12/2022 to 11/07/2022, 3:30 PM to 5:30 PM 2023 Winter Mon. & Wed. Session: 01/04/2023 to 03/01/2023, 3:30 PM to 5:30 PM Use this link to download a registration form:
https://drive.google.com/file/d/1CHpQL8yUALFMoi2SxgSBuOSfb20dIfJq/view?usp=sharing
Summer School Playhouse presents Willy Wonka and the Chocolate Factory, July 7-9th at WHS Auditorium. Tickets are $8 for adults and $5 for students. Call 262-472-8178.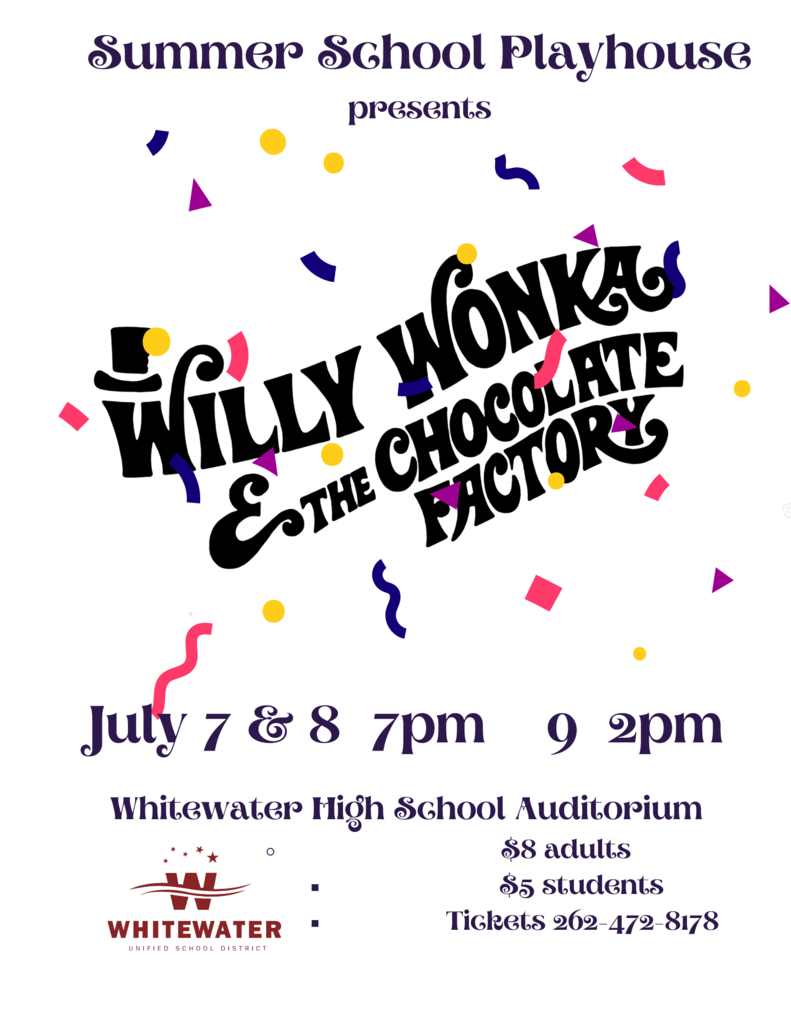 WUSD Weekly Update - June 7, 2022 Dear Families, Here are a few updates in the District: ✔After a very thorough vetting process, the members of the elementary math committee are delighted to announce that the Whitewater Unified School District will be adopting a new elementary math program beginning in the Fall of 2022. Bridges in Mathematics is a comprehensive PK-5 curriculum that equips teachers to fully address academic standards in a rigorous, engaging, and accessible manner. Students gain a deep understanding of concepts, proficiency with key skills, and the ability to solve complex problems. The curriculum is composed of three distinct but integrated components: Problems & Investigations, Work Places, and Number Corner. Whitewater elementary teachers will begin training for the program implementation this spring and again throughout August. They will be ready and eager to hit the ground running with this exciting new curriculum when school starts in the fall.
https://www.mathlearningcenter.org/curriculum/bridges
✔Online Registration for the 2022-23 school year (also known as the annual update) should have been completed by Friday, June 3rd. The annual update needs to be completed each year for existing families in the Whitewater Unified School District. ✔WUSD Summer School begins on Monday, June 20th! ✔WUSD Registration Days: Middle School and High School - August 11 from 12pm-5pm and Elementary - August 17 from 9am-1pm & 3pm-6pm. Have a fun and safe summer! COVID-19 data can be tracked at:
https://sites.google.com/wwusd.org/wusd-covid-19/health-safety
. We appreciate your support, WUSD families! Best, Dr. Caroline Pate-Hefty Superintendent -- Actualización semanal de WUSD Estimadas familias, Aquí hay algunas actualizaciones en el Distrito: ✔Después de un proceso de investigación muy completo, los miembros del comité de matemáticas de primaria están encantados de anunciar que el Distrito Escolar Unificado de Whitewater adoptará un nuevo programa de matemáticas de primaria a partir del otoño de 2022. Bridges in Mathematics es un plan de estudios integral para los grados PK-5 que capacita a los maestros para abordar plenamente los estándares académicos de una manera rigurosa, atractiva y accesible. Los estudiantes adquieren una comprensión profunda de los conceptos, el dominio de las habilidades clave y la capacidad de resolver problemas complejos. El plan de estudios se compone de tres componentes distintos pero integrados: Problemas e Investigaciones, Lugares de Trabajo y Rincón de los Números. Los maestros de primaria de Whitewater comenzarán la formación para la aplicación del programa esta primavera y de nuevo a lo largo de agosto. Estarán preparados y ansiosos por empezar a trabajar con este nuevo y emocionante plan de estudios cuando las clases comiencen en otoño.
https://www.mathlearningcenter.org/curriculum/bridges
✔La inscripción en línea para el año escolar 2022-23 (también conocida como la actualización anual) debe completarse antes del viernes 3 de junio. La actualización anual necesita ser completada cada año para las familias existentes en el Distrito Escolar Unificado de Whitewater. Un correo electrónico fue enviado el lunes, 23 de mayo con más información sobre cómo completar la actualización anual 2022-23. ✔¡La Escuela de Verano de WUSD comienza el lunes 20 de junio! ✔Días de inscripción de WUSD: Escuela Media y Preparatoria - 11 de agosto de 12pm-5pm y Primaria - 17 de agosto de 9am-1pm & 3pm-6pm. ¡Que tengan un verano divertido y seguro! Los datos de COVID-19 pueden encontrarse en:
https://sites.google.com/wwusd.org/wusd-covid-19/health-safety
. ¡Apreciamos su apoyo, familias de WUSD! Lo mejor, Dra. Caroline Pate-Hefty Superintendente
In order to include Prom, spring sports, and graduation in the yearbook, we have moved to a summer delivery. We are planning a distribution event in early August to pass out books, enjoy a cookout, and let students have one final get-together before they head their prospective ways. We understand some graduates might already be off on their next adventures, but, hopefully, the date will work for most. We will be in contact via IC and social media once more information is available. If you have any questions, please contact Kate Weston at
kweston@wwusd.org
.