Join Whitewater High School's FIRST Robotics Competition Team Ferradermis and FIRST Lego League students and mentors representing the teams from Washington, Lincoln, Lakeview, and Whitewater Middle School on Saturday, February 11 for an Open House at Whitewater High School. Stop in anytime between 10:00 am and 2:00 pm to visit with students and see this year's projects and robots. Visitors should enter the school through Door #38 at the high school, which is between the back of the auditorium and the overhead auto shop doors. Parking is available in the lot next to the JV baseball field, but anyone with accessibility needs may drive right up to the door. The Open House will take place during a regular Saturday workday for the high school team. Ferradermis members will take visitors on a guided tour of their workspace and the school shop, and visitors will have a chance to speak with representatives of the mechanical, electrical, programming, competition logistics, CAD, and administrative subteams as well as see the 2022 and currently under construction 2023 robot. Representatives of the FLL teams will be demonstrating their robots and sharing their innovation projects which relate to this year's energy-themed game. In addition, Ferradermis will have various themed gift baskets available for visitors to bid on as a fundraiser for the team. The team will also have Kwik Trip gift cards for sale as part of an ongoing fundraiser. Gift cards can be purchased at face value, and the team will be able to keep a portion of the money collected.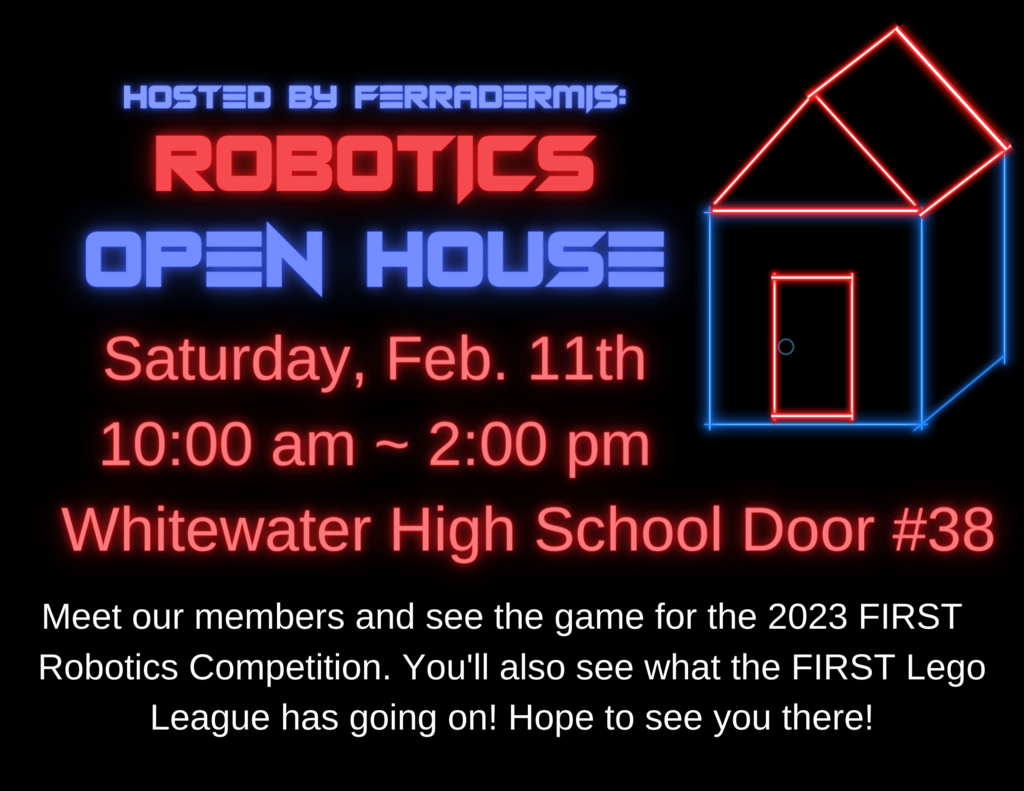 FBLA is hosting their annual Royal Ball (a dance for grades 4K through 5) on Friday February 17, 2023. The theme is a Winter Fairytale. The semi-formal dance will be held in the Whitewater High School Cafeteria (MPR) from 6:00 until 8:00, and students must be accompanied by an adult. Cost is $10 per student, and registration forms are due by February 10. The event will include music, dancing, cookies, punch, a photo booth, and craft stations.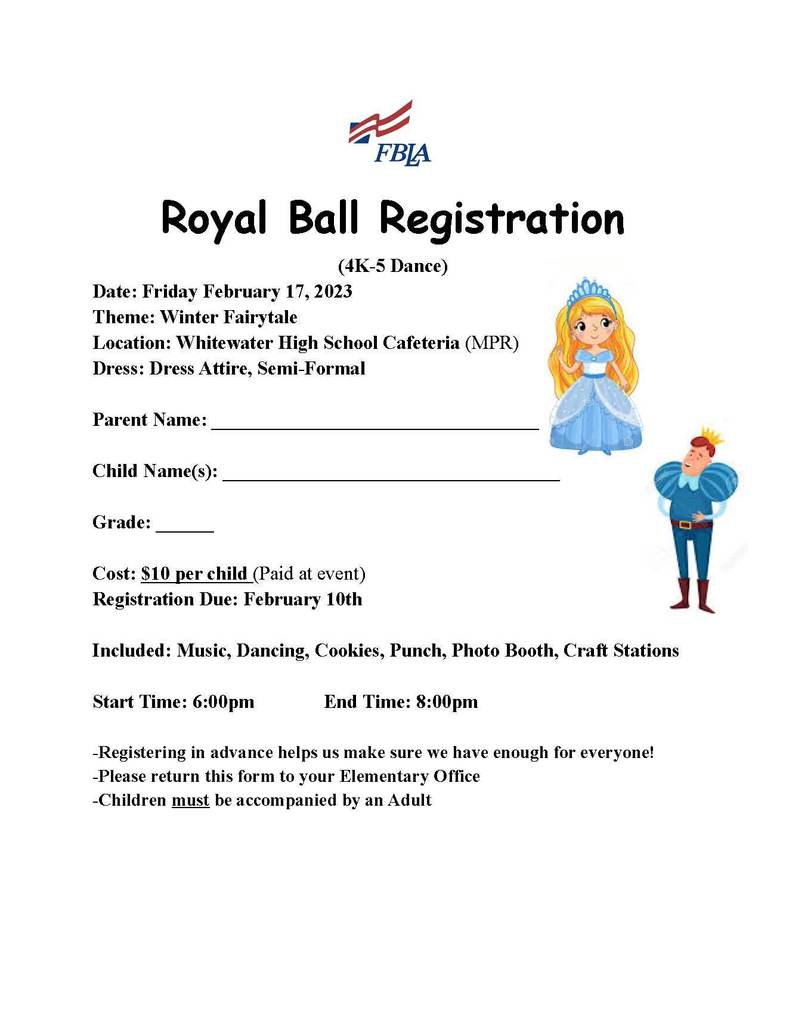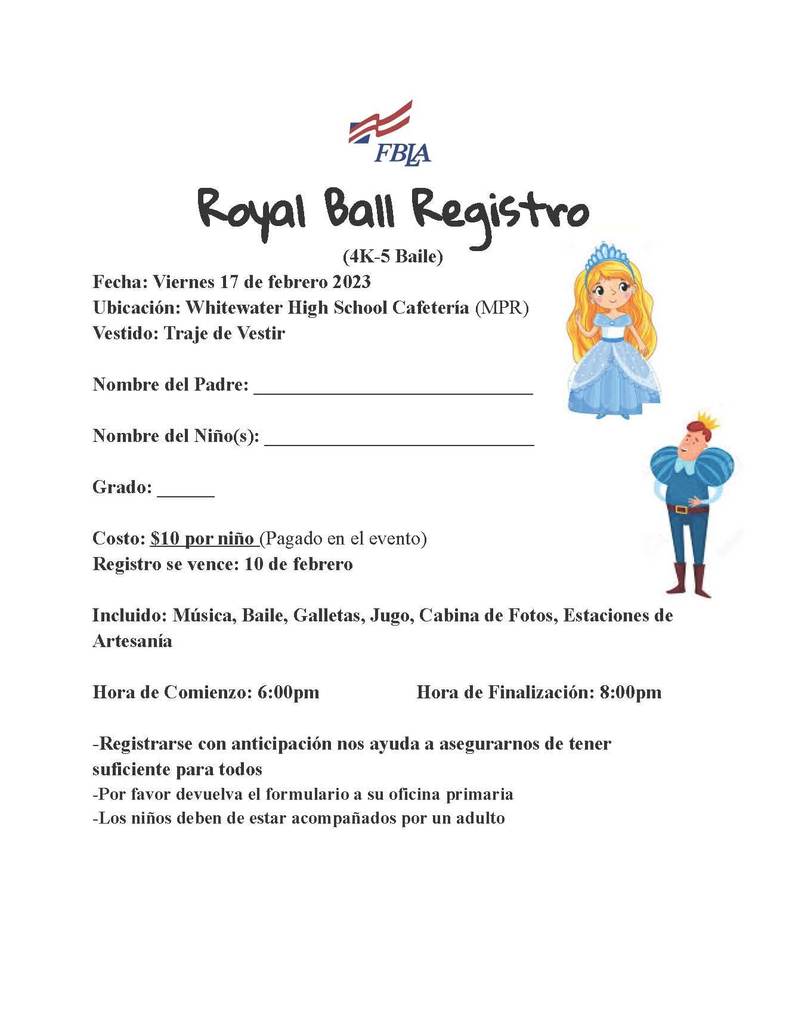 Due to impending winter weather, Saturday's ACT Master Class will be postponed to a future date.

Beginning in the 2023-2024 school year, Whitewater High School students will be able to get a jump start on earning college credits thanks to a new series of transcripted courses available through Gateway Technical College. The partnership will allow students to take college-level classes on early childhood education, introduction to business, software academy, advanced automotive care, and enterprise manufacturing. The WUSD School Board approved the courses at its December 19 meeting. "We are thrilled to engage in this partnership with Gateway Technical College and give our students the opportunity to earn both high school and college credit without leaving Whitewater High School," said Dr. Caroline Pate-Hefty, Superintendent. "These programs will help students reduce the cost of their college education and give them the skills necessary to enter high-demand jobs shortly after graduation." Through the one-semester Foundations of Early Childhood, students explore key concepts in child guidance, discipline, lesson planning, and fostering creativity. They also hear from guest speakers and observe children in a daycare setting. Intro to Business introduces students to various business topics and other high school business course offerings, such as Accounting, Business Law, Entrepreneurship, Personal Finance, and Sales & Marketing. In Software Academy students will have the opportunity to earn the Microsoft Office Specialist (MOS) certification, which is globally recognized for demonstrating Microsoft Office skills and meeting the workplace demand for qualified employees. Also available is Health, Safety, and Nutrition, another early childhood-focused course that includes various training sessions that allow students to become state certified as assistant childcare teachers. Advanced Auto is a full-year course that familiarizes students with the various systems of motor vehicles and includes ASC certifications for students who want to pursue automotive-related careers. The one-semester Manufacturing Enterprise class enables students to research, design, build, market and sell products, with the ultimate goal of making a profit. This includes quoting jobs, ordering materials, building products, quality control, and marketing. The transcripted classes will be taught by certified high school teachers, with students earning high school and college credits concurrently. To learn more about the program, visit
https://www.gtc.edu/admissions/audience/high-school-students/earn-college-credit-high-school
.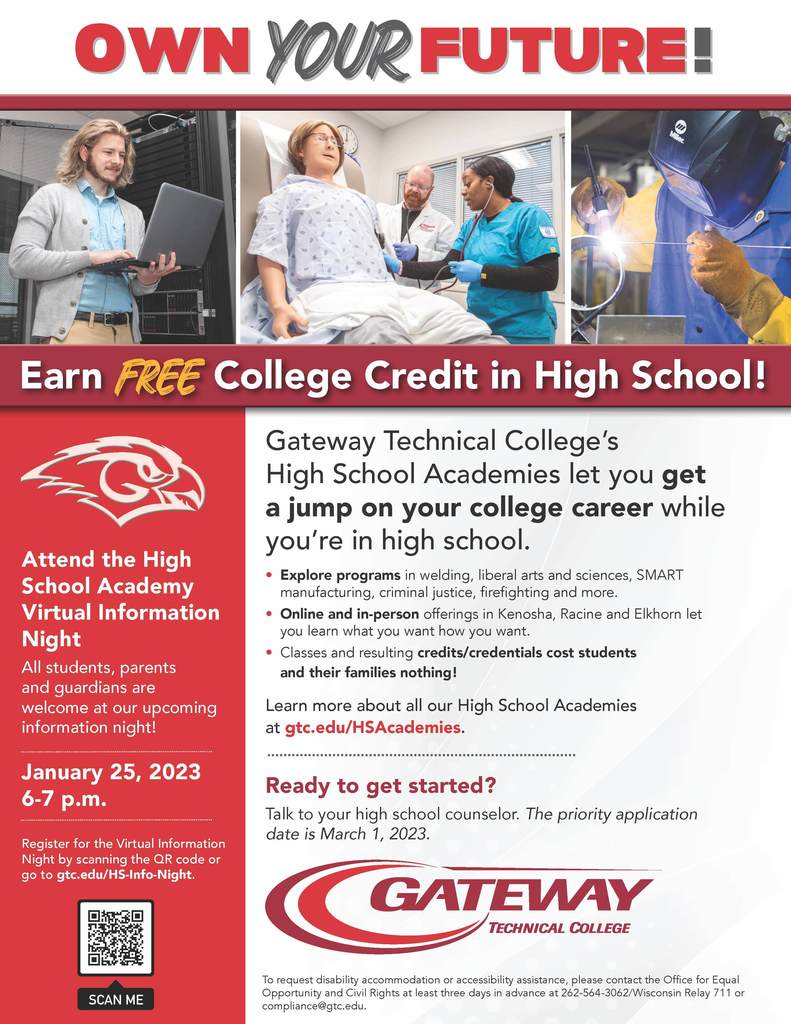 NHS is hosting a semi-formal Sweetheart Dance in the MPR on Saturday, February 11 from 8 - 11 pm. Tickets will go on sale on February 6. Students will be able to submit a song request when they purchase their tickets. Students who wish to bring a guest from another high school must pick up a Guest Form from Mr. O in the Main Office. Guests must be current high school students (unless they graduated from high school in 2022), have their administration complete the bottom portion of the form with school seal/stamp, and turn in the completed form to Mr. O by 4 pm on Wednesday, February 8. Guests must also show a photo ID when they arrive at the dance. A great time will be had by all!

On December 18th, the Whitewater High School Music Masters Ensemble will present their Music Masters Showcase. Come and enjoy the sounds of the season, classical, contemporary, and some of your favorite Broadway show tunes in this very special musical extravaganza! The event will take place in the Whitewater High School MPR and will include solos and small ensemble performances, as well as songs sung by the entire Music Masters Ensemble. The event will begin at 3:00 pm. The $10 ticket per person includes the performance and refreshments. See any Music Masters Ensemble member, their director Karen Tordera, or the High School Office for tickets. Tickets are for reserved seating and should be purchased by December 9th. If you have questions, please contact Mrs. Tordera
ktordera@wwusd.org
or 262-472-8174.

Download the WUSD mobile app today! On the app, students, parents, and community members can read the latest announcements, locate staff information, review upcoming events, and find important documents. The Whitewater app is available to download free from the Apple App Store or the Google Play store by searching for "Whitewater Unified Schools." Click the following link for an introduction video on the app:
https://youtu.be/NZXAlONRMek

The National Honor Society Fall Silent Auction will close at noon on Friday, November 11. Projects up for bid this year include babysitting, house cleaning, personalized baked treats, school & organization help, dog walking, voice lesson, and themed baskets for family game night, camping, gift wrapping, and fall seasonal gifts! If interested in winning a project, check out the bids already placed and add a new bid on the google form by noon tomorrow. Projects will be completed in the next few weeks! Funds raised will go to worthwhile causes like local & area scholarships. A great time will be had by all!
https://sites.google.com/wwusd.org/whsnationalhonorsociety/fall-silent-auction-22-23

Preliminary election results indicate that voters have approved the operational referendum question for the Whitewater Unified School District. As a result, we will be able to maintain: ➡️Robust academic and athletic opportunities ➡️Student support and mental health services ➡️Comprehensive instructional and co-curricular programs ➡️Technology and facilities infrastructure We are incredibly appreciative of the input and feedback we received throughout this process. Thanks to your engagement, we were able to present a solution that made sense for our entire community. The canvass will be held on Friday, November 11, to certify the results. As always, thank you for your support of WUSD schools and the students we serve!

Reminder: Jostens will be at WHS on Tuesday, November 8 during both lunch periods in the MPR for seniors to place their graduation orders. Seniors should bring completed forms and payments. Orders can also be placed online using the link on the Senior Website:
https://sites.google.com/wwusd.org/whsseniorclass/capsgowns

The WHS Cheerleaders are running a shoe drive fundraiser. Shoes will be donated to families in need, and the cheerleaders will earn money based on the number of pounds of shoes collected. Please donate your new and gently used shoes, boots, and sandals, for all sizes and everything in between. Shoes can be dropped off in a large garbage can in the office. The collection runs until winter break! Contact
jfranger@wwusd.org
with questions or for more information.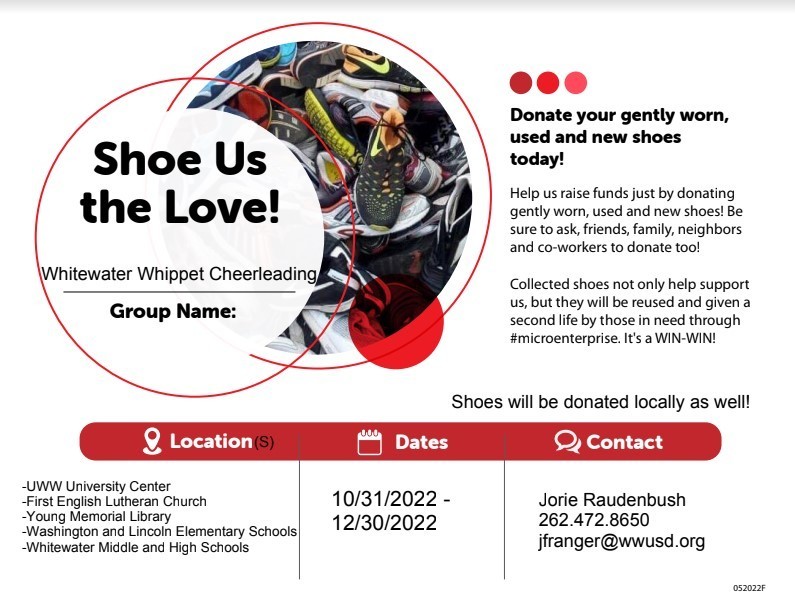 Any student who has not yet had their school photo taken this year will be asked to have their photograph taken during study hall on Thursday, November 3.


There will be an ACT Practice Workshop this Saturday, November 5, from 9 a.m. - noon in the LMC. Students attending will have the opportunity to take the 4 multiple choice tests of the ACT with standard timing and will be provided some tools with test success strategies. Juniors are strongly encouraged to attend and will have the chance to have their names placed in a drawing for Kwik Trip gift cards. Contact Ms. Houwers or Ms. McNulty if you have any questions.

Our Whippet cheerleaders are running a SHOE DRIVE fundraiser beginning on Monday (Halloween!). Please reach into your closets and donate any shoes (babies, kids, adults, boots, sandals, flip flops, sneakers, boots, dress shoes, etc.) your family is no longer using/needing. Drop off locations include the UWW University Center, Young Memorial Library, First English Lutheran Church, Lincoln and Washington Elementary Schools, and Whitewater Middle and High Schools. Collections will continue until December 30.

Are you interested in joining the cheerleading squad for basketball season? Attend our upcoming meeting with an adult from home!

The Whitewater Rotary Club is hoping to sponsor an International Exchange student next year and is looking for families who would be interested in hosting a student. If you are interested, please contact Aurelio Callope directly at 262-473-1408 or
aurelio.callope@lpl.com
.

The Walworth County Mobile Command Post will be stationed outside of the cafeteria doors during the lunch hours next Tuesday, October 25th. This is for a tour for Criminal Justice Club members. There is NO CRISIS - this is a pre-scheduled event.

The WMS 8th Grade Choir and all WHS Choirs will present their Fall Concert on October 19th at 7:00 pm in the Whitewater High School Auditorium. Admission is free. The theme of the concert is "You've Got Mail" ---songs that are sung to convey messages. Song selections will include some well-known favorites. Please bring a pen or pencil with you to this concert! We hope to see you there!

Tonight, the Whippets host McFarland for our annual homecoming football game! Kickoff is at 7 p.m. 🏈 We look forward to welcoming our alumni, fans, and community for this annual tradition. Let's go WHS!